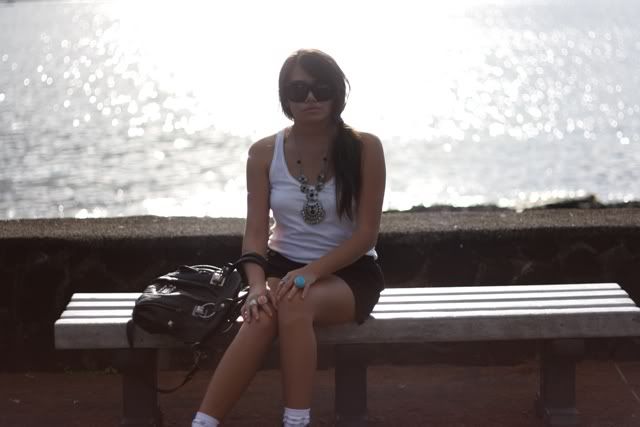 White scrunched socks with little blue flowers


Grey Ant sunglasses courtesy of my boyfriend, Kash (mytenderoni.blogspot.com)


Faux fur, necklace, lace-up heels - Forever 21; Racerback tank - depths of my closet; Tap shorts - Macy's

I threw this outfit together in a flash, pulling old and new pieces from my closet. Making its debut today was the tap shorts I found for $8 at Macy's. I dressed up a few basic pieces with a fur vest and silver accessories. As lovely as these heels may appear, they are hardly easy on the feet, offering little support and no cushioning. Very uncomfortable indeed; however, the socks provided marginal comfort. Throughout the course of our little shoot, I kept alternating between fur on and fur off, hair up and hair down. After all, it is summer, and the heat is unforgiving. All photos were taken by Kash.

A special thank you to ELLE.es for including me in their "Around the world in 60 blogs" feature! I'm thrilled to be representing Hawaii and standing amongst my lovely fellow bloggers. View it HERE!